We provide 'IT Work Experience'
& 'Youth Enterprise Training'
Our Work Experience and Enterprise Training has been specifically designed for College or University leavers, or those with skills, who have an interest in working within the IT sector but, and to help them take that first step into work.
Our programs provide free 'Work Experience' and Enterprise Training to give the students the practice they need to secure interviews and ultimately gain employement.
After an initial assessment of their IT skills, students can volunteer for a maximum of 30 hours per week in return for valuable experience and advice.
Each student is enrolled onto our training program, which teaches them a variety of different skills during their placement with us.
In addition participants learn to improve their business skills, the importance of a good CV, appropriate dress code, positive behaviour, sales and marketing, brush up on their interview techniques and get involved in IT projects.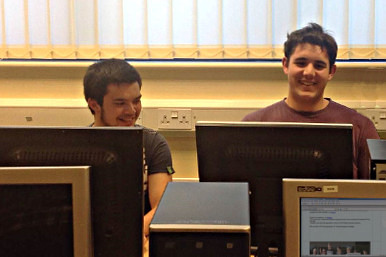 There is the opportunity to work with hardware: repairing computers, replacing hard-drives, upgrading or removing viruses; or in software development: website designing or creating apps.
Where possible all students are actively encouraged to visit trade shows and take part in business networking meetings. We source real clients for students, so they can gain real-life experience.
By the end of their time with us, our participants will be well equipped to succeed in the 'world of work', have the knowledge, confidence and track record to secure the best job that fits with their aspirations, in the IT world or virtually any other sector.